2014 18th Annual Our Glorious Workplaces, at TERACAI and CXTec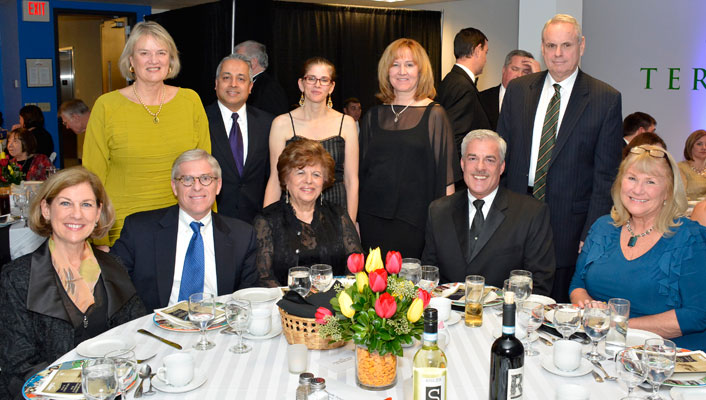 OHA's annual fundraising gala, Our Glorious Workplaces, was held November 15, 2014 at TERACAI and CXtec on South Bay Road in North Syracuse. OHA's Glorious Workplaces event showcases how organizations create and deliver their products or services while emphasizing their historic impact upon the larger community.

This year's Glorious Workplaces evening began with a tour led by members of the TERACAI and CXtec staff through the companies' office spaces in the landmark Switz's building during the cocktail hour. Musical entertainment by the very talented CXtec Dinosaurs kept up with the lively crowd while food and beverage were graciously served by Pascale's Catering.
The sit-down dinner began with OHA Executive director Gregg Tripoli serenading guests with a musical salute to TERACAI, CXtec and its founder, Bill Pomeroy. After dinner, guests heard the story of TERACI and CXtec, Switz's, and North Syracuse during a presentation by OHA's Curator of History, Dennis Connors. Several members of the Schmidt and Clark families, who had owned Switz's for many years, were in attendance for the festivities. For the evening's raffle, TERACAI and CXtec kindly donated an iPad, which was won by Sandy Case, whose husband, Dick Case, formerly of the Post Standard and now a researcher at OHA, recently authored the OHA book, Salt City Trivia.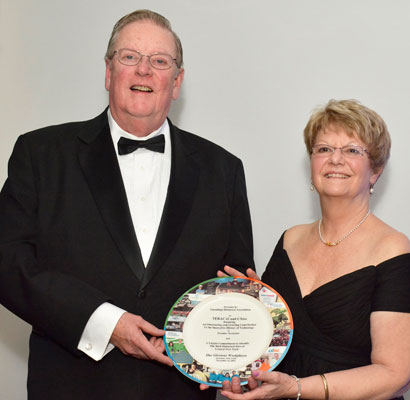 The culmination of the evening was Bill Pomeroy's description of the history of TERACAI and CXtec with a surprise video performance of a song written in support of OHA. A presentation of a commemorative plate presented by OHA Board President Lee DeAmicis to Bill and Sandra Pomeroy followed the video. The plate is decorated with images from the early Cable Express days of the company to the present, and with photos of Switz's, the beloved novelty store whose iconic Swiss-style building became TERACAI CXtec's company headquarters.
Onondaga Historical Association extends many thanks to the hard-working committee members whose commitment and enthusiasm made the whole process fun for all. And thank you to the sponsors, without which we couldn't tell these great stories for future generations.
2014 Glorious Committee Members:
Pam Reilly – Chairperson
Michele Johnson
Nancy Bottar
Sandra Pomeroy
Paula Miller
Renee Duffy
Jaime King
Jennifer Pelow
Lisa Loftus
Jeff Pawlowski
Mark Azzarello
Constance Bull
Leanne Fiscoe
Charla Roth
Lynne Pascale
Jon Zella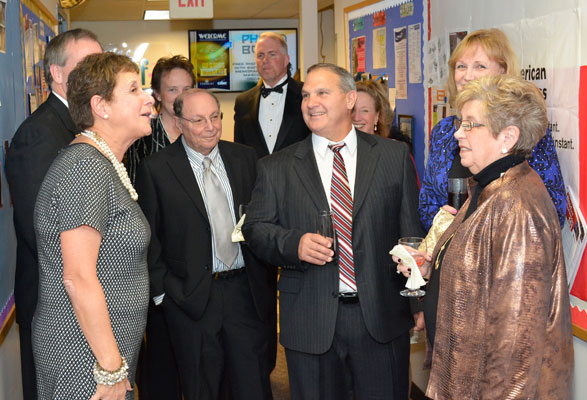 Top Level Sponsors for Our Glorious Workplaces
Presenting
TERACAI CXtec
Sustaining
Haylor Freyor & Coon
L. & J.G. Stickley
Supporting
Bottar Leone
Bruce and Linda Kenan Foundation
Cathedral Candle
Crouse Hospital
Hancock Estabrook
David Murray, MD
Tribute to Teracai & CXtec – 2014 Our Glorious Workplaces
Lyrics by Gregg Tripoli (sung to the tune of "Dream a Little Dream of Me")
These companies have strong roots.
Though they wear more jeans and t-shirts than suits,
it's cutting edge technology stuff,
led by a history buff.
They'll cure all your network's ills
then see if you're a relative of Bill's.
Great service is a priority,
since you might be family.
These companies do so much good for
our communities.
Though their mascot is a big dinosaur,
they're the bee's knees.
They start each day with a cheer
'cause they just sold what you threw out last year.
They can turn the old into the new
and did it with Switz's too.
They started with no time for pleasure
And some borrowed cash.
And made themselves a local treasure
from others' trash.
A company band that rocks.
Network solutions from outside the box.
Mix "The Cable Guy", "Roots", and "Star Trek"
that's Teracai and CXtec.
2013 17th Annual Our Glorious Workplaces, at Crouse Hospital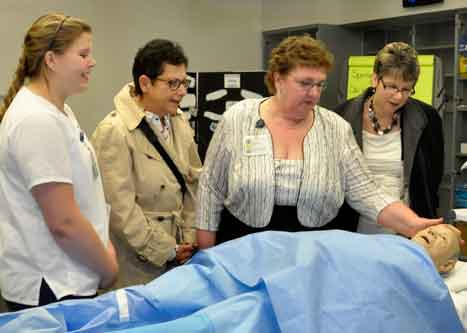 In honor of Crouse's history of service excellence, innovation and professional advancement, Onondaga Historical Association (OHA) wass proud to announce that its 17th annual fundraising gala, Our Glorious Workplaces, was celebrated at Crouse Hospital on Saturday, November 9, starting at 6 p.m. Tickets were $195. Tables of 10 and sponsorships are also available. Tours of the Harry and Lillian Marley Education Center, Crouse College of Nursing, including the Library, the mock operating room, and Visit to Hospital Land. Special event raffle: a tour of the Crouse Hospital Clock Tower.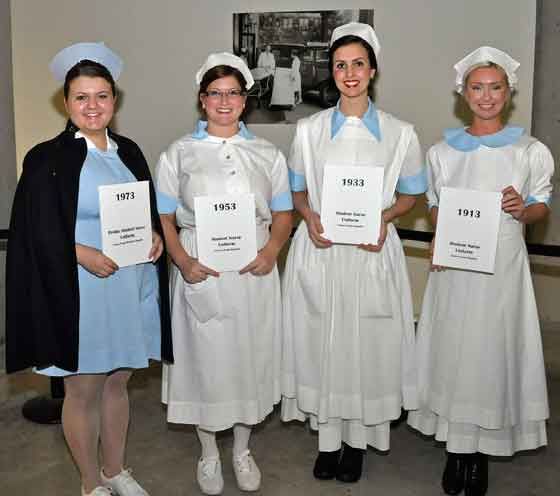 ---
2012 16th Annual Our Glorious Workplaces at Churck Hafner's Farmers Market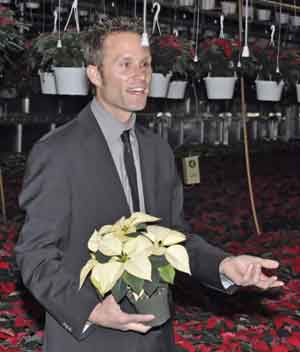 On the vessel Kroonland, sailing in August of 1908 to Ellis Island with 817 fellow passengers on board, traveled Louis and Christine Hafner from southern Germany, with their three young sons and infant daughter, eager to join their relatives living in Syracuse, NY. It was from these roots in the early part of the 20th century that George Hafner and his son Chuck and their families grew their North Syracuse farm and retail businesses to become one of the best-known, family-run enterprises in Onondaga County. On November 17, to celebrate the history and impact of this well-respected company, Onondaga Historical Association was proud to have this year's Our Glorious Workplaces gala at Chuck Hafner's Farmers Market on Buckley Road in North Syracuse.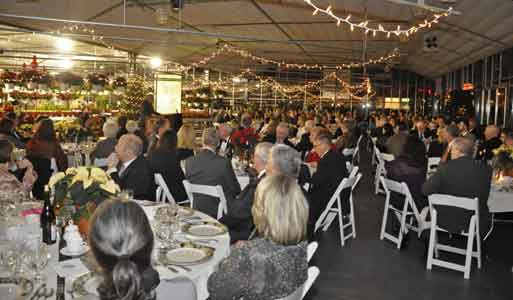 The 65,000 square foot, state-of-the-art garden center with seven greenhouse structures was the location for the Glorious evening's events. Cocktails were followed by tours given by Chuck Hafner's staff and family members of some of the four acres of growing greenhouses in the expansive facility. The dinner menu was inspired in part by Linda Hafner's popular book, Simple, Fresh and Healthy: A Collection of Seasonal Recipes. Dinner took place in a glass-enclosed space, graced with a fountain and filled with seasonal decorations, situated next to Jolime, the garden center's bakery and café.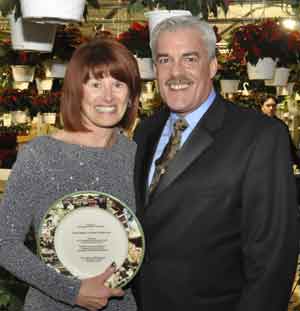 A presentation by Dennis Connors, OHA's Curator of History was very inteesting, and a commemorative twelve-inch plate with images depicting Chuck Hafner's Farmers Market history given to everyone.
---
2011 15th Annual Our Glorious Workplaces at Syracuse University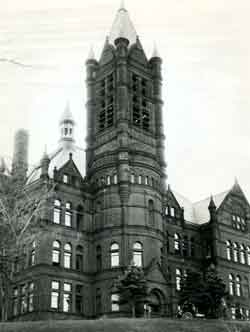 Onondaga Historical Association and Syracuse University have shared a commitment to the education and community enrichment of Central New York for over 140 years. Thus, it is fitting that OHA's 15th annual signature event will be held on the campus of Syracuse University on Saturday, November 19, 2011.
The evening starts at 6 PM with cocktails at Crouse College, one of the earliest of the University's buildings. John Crouse, a Syracuse banker and merchant, provided the funding for the College in 1887. The building's architect, Archimedes Russell, designed the structure in the Romanesque-Revival style. Originally intended as a women's college, the school served both men and women and now serves as the home for SU's College of Visual and Performing Arts.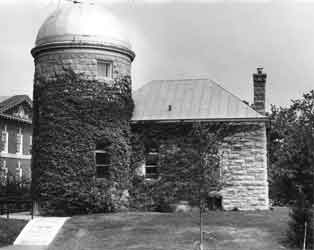 Glorious guests can see how the interior of the school still matches its stately 19th century exterior. Performances by VPA students in the school's Setnor Auditorium and throughout the building will enhance the evening's tour. Guests will be able to take rare tours of Holden Observatory. Afterwards, guests can either walk across the quad with student guides or ride comfortably in shuttles to the evening's dinner venue, the soaring atrium of the Life Sciences building on College Place, one of the newest buildings on campus. An elegant dinner will be served at 8 PM.
Don't miss this fabulous event: OHA's Our Glorious Workplaces, Saturday, November 19, 2011 beginning with 6 PM cocktails and tour at Crouse College and Holden Observatory followed by 8 PM dinner at the Life Sciences Building. On-campus parking will be available to Glorious guests. Tickets to the event are $195 per person. For more information or to make a reservation, call Lynne Pascale at 428-1864 ext. 314.
---
2010 14th Annual Our Glorious Workplaces at L. & J.G. Stickley, Inc.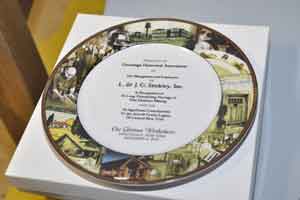 This year OHA was pleased to honor the legacy of one of our community's oldest and most respected companies, L. & J. G. Stickley, Inc.
How is Stickley's beautiful signature furniture made?
Where were some of its most enduring original pieces produced?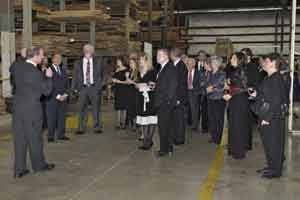 These questions and more were answered for OHA's Board of Directors and over two hundred fortunate guests attending Our Glorious Workplaces as they toured the Stickley factory in Manlius. From there guests celebrated OHA's 14 th annual fundraising dinner at Stickley's original factory in Fayetteville. It is interesting to note that the original factory has never before been open to the public and in addition, cocktail hour was enjoyed in The Stickley Museum with its beautiful and vast collection of remarkable furnishings. Pascale's served a splendid dinner and the program featured a surprise serenade to Stickley by Executive Director, Gregg Tripoli accompanied by Time Warner Cable's Vice President of Public Affairs, Jeff Unaitis.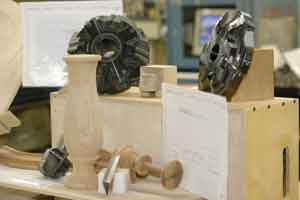 OHA extends special thanks to the Audi family, Brenda Jaynes, Greg Vadney, Stickley Museum Executive Director and Stickley tour guides, Terry Cooper, Kevin Curtis, Terry Terwilliger and George Webster. In addition, the Fayetteville Free Library's generous assistance in creating a smoothly run event was most appreciated.
OHA recognizes the special efforts given by the event committee: Nancy Bottar, Donna Flook, Michele Johnson, Lisa Loftus, Pam Reilly and Jennifer Wells. This event would not be possible without your efforts. Thank you!
---
2009 13th Annual Our Glorious Workplaces at King & King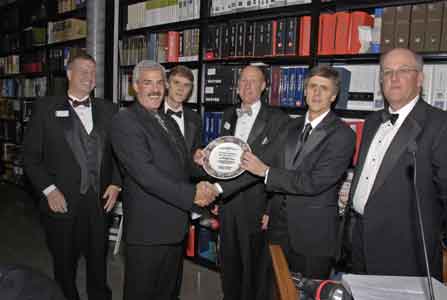 The 13th annual " Our Glorious Workplaces " was the evening not to be missed for the Onondaga Historical Association (OHA) Museum and Research Center. The evening not only provided great food and friends but the opportunity to learn the rich history of the oldest architectural firm in New York State, King + King Architects, LLP. Founded 1868, King + King has been serving the upstate New York community for over 140 years. The firm has had a hand in literally shaping the Syracuse skyline, designing such landmarks as National Grid building, the Onondaga County Courthouse, Crouse College, Bird Library, Manley Field House and the Syracuse Chamber of Commerce headquarters.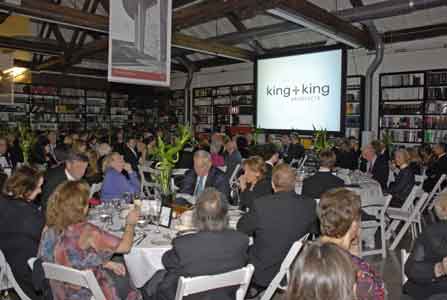 Over 200 guests joined the OHA staff and board members at King + King's newly renovated building on the near west side. The evening concluded with an elegant dinner and presentation by Russ King, retired partner of King + King and Dennis Connors, Curator of History at OHA. Our guests also had the pleasure of being serenaded by OHA's Executive Director, Gregg Tripoli accompanied by Time Warner Cable's Vice President of Public Affairs, Jeffrey Unaitis, with a little ode to King + King!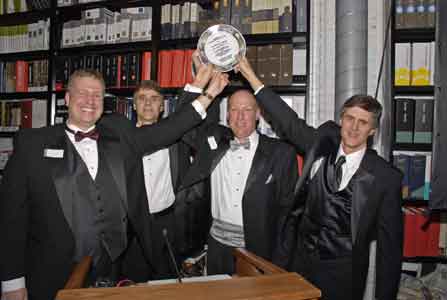 The OHA would like to recognize the special efforts and dedication of this year's event committee; Chairperson, Michele Johnson, Nancy Bottar, Pam Reilly, and Donna Flook and also, a special thanks to the King + King staff, Sarah Ioele, Lisa Maynard, and Jennifer Wells, where without all of you this event wouldn't be possible.
---
2008 12th Annual Our Glorious Workplaces at Centro, A CNYRTA Company
(Event occurred November 15, 2008)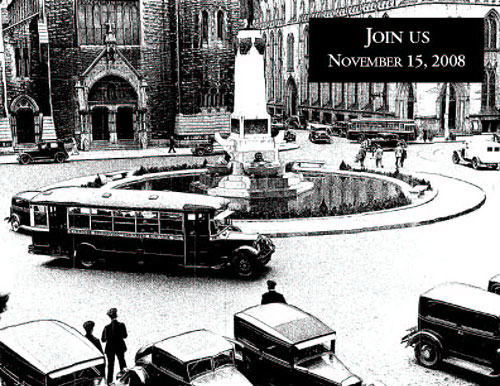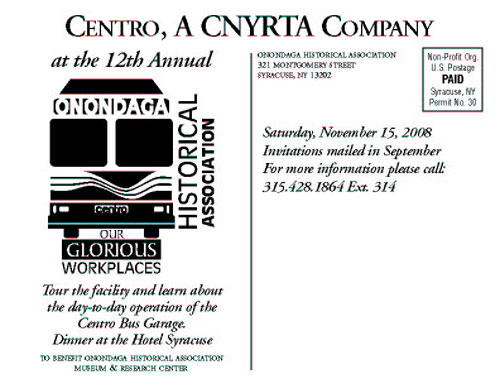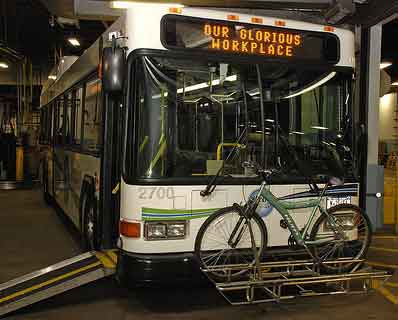 Onondaga Historical Association Museum and Research Center (OHA) celebrated its 12th Annual "Our Glorious Workplaces" on Saturday, November 15, 2008. This year OHA was pleased to recognize Centro, a CNYRTA Company, whose mission is to be responsive to the transportation needs of our community by providing safe, convenient, reliable and environmentally responsible services to those of Onondaga, Cayuga, Oneida, and Oswego Counties.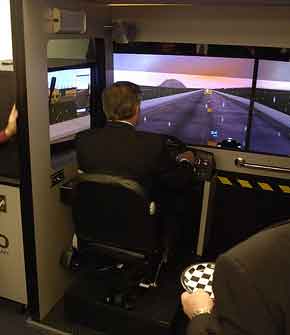 The evening began at 6:00PM with a reception at Centro's Warren H. Frank Transportation Center located at 200 Cortland Ave. Frank Kobliski, Executive Director, and the Centro staff provided guests with an exciting and educational opportunity to drive a simulated bus and take a 20-minute tour of their facility. At 7:30PM , guests had the option to enjoy a ride on a new Centro hybrid electric bus from the Warren H. Frank Transportation Center to the historic Hotel Syracuse, to conclude the evening with an elegant dinner and presentation by Dennis Connors, OHA's Curator of History.
Tickets were $195 per person to support the mission, programs, and work of the OHA. The evening was black tie optional.
---
2007 Our Glorious Workplaces at Anheuser Busch, Baldwinsville
(Event occurred Nov 2, 2007)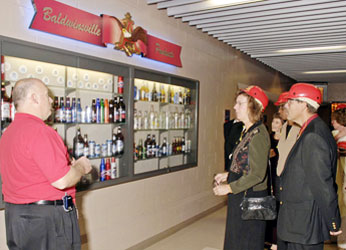 Baldwinsville, N.Y.– The Onondaga Historical Association Museum & Research Center (OHA) began its second decade of celebrating Syracuse 's notable workplaces with a tour and dinner at the Anheuser-Busch brewery in Baldwinsville, N.Y. The 11th Annual " Our Glorious Workplaces" black tie optional gala took place from 6- 10:00 p.m., Friday, Nov. 2 and is the signature fundraising event supporting operations, as well as school-age and adult programming at OHA's Museum & Research Center.
Anheuser-Busch brewmaster David Baynes and his brewing staff offered guests a behind-the-scenes look at how Anheuser-Busch in Baldwinsville produces more than 30 beer brands, including the world's best-selling Budweiser and Bud Light.
"Anheuser-Busch has been a productive member of this community for almost a quarter of a century and we are proud to accept this recognition from OHA." said Steve McCormick, plant manager, Anheuser-Busch Baldwinsville brewery. "We welcome the opportunity to open the doors so our neighbors can get a first-hand view of how our most popular beers are brewed."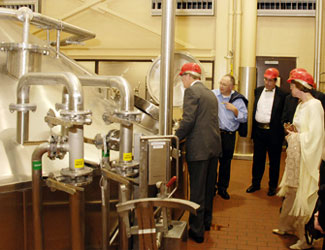 The event began with a welcome reception at 6 p.m .followed by tours of Anheuser-Busch's brewhouse, production lines and packaging areas. Visitors who were at least 21 years old sampled some of Anheuser-Busch's beers and learned how well those beers pair with certain delicious foods.
Dennis Connors, OHA Curator of History, presented an historical overview of beer making in Syracuse , including the Anheuser-Busch Baldwinsville brewery's significance in that rich tradition. Each guest received a commemorative dinner plate, which this year included images of the people of Anheuser-Busch and the many brands brewed at the Baldwinsville facility. Syracuse China (a Libbey company) has provided the commemorative plate annually since the inception of the event.
Event tickets were $195 per person.
Local companies serving as underwriting sponsors of " Our Glorious Workplaces" this year are: National Grid; The Post-Standard ; Bottar Leone, PLLC; Cathedral Candle; King & King Architects; M&T Bank; Mackenzie Hughes LLP; Time Warner Cable; and VIP Structures. Event sponsorship opportunities remain available.
Based in St. Louis , Anheuser-Busch is the leading American brewer, holding a 48.4 percent share of U.S. beer sales. The company brews the world's largest-selling beers, Budweiser and Bud Light. Anheuser-Busch also owns a 50 percent share in Grupo Modelo, Mexico's leading brewer, and a 27 percent share in China brewer Tsingtao, whose namesake beer brand is the country's best-selling premium beer. Anheuser-Busch ranked No. 1 among beverage companies in FORTUNE Magazine's Most Admired U.S. and Global Companies lists in 2007. Anheuser-Busch is one of the largest theme park operators in the United States, is a major manufacturer of aluminum cans and one of the world's largest recyclers of aluminum cans. For more information, visit www.anheuser-busch.com .
---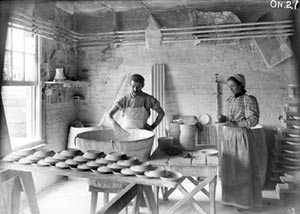 Our Glorious Workplaces at Syracuse China, a Libbey Foodservice Company :
(Event occurred Nov 4, 2006)

The 2006 event marked the 10th Anniversary of OHA's celebration of Syracuse area "Glorious Workplaces." The first Glorious Workplaces event was held in 1997 at OnBank, followed by Niagara Mohawk, Onondaga County Courthouse, Syracuse Newspapers, City Hall and Key Bank, Time Warner (Central NY Train Station), Crucible, Clinton Square at Clinton Exchange and Lockheed Martin.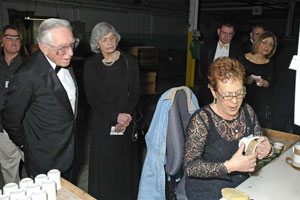 A tour of the production floor, design studios and company archives where one of Syracuse's most famous local products is made highlighted OHA's 2006 "Our Glorious Workplaces" signature fundraiser, hosted by honoree--Syracuse China.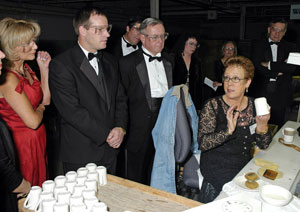 In addition to guest tours, Cleota Reed, noted Syracuse China historian, presented a history of the company. The 2006 Tenth Anniversary event marked the unveiling of a 10th limited-edition commemorative dinner plate, designed and donated by Syracuse China to OHA. Each of the plates has reflected historic images of the "Glorious Workplaces" being honored. All ten plates in the series have been designed by Lucie Wellner, Syracuse China designer and noted local artist.
The black-tie evening included an elegant meal catered by Pascale's. Tickets were $195 per person.
---

2005 Our Glorious Workplaces
In 2005, this event took place at Lockheed Martin Maritime Systems & Sensors in Salina. Lockheed Martin was the lead underwriting sponsor for the event. Additional event sponsors were Hiscock & Barclay, LLP, M&T Bank; The Post-Standard; and National Grid. A behind-the-scenes tour shed light on how our nation's leading defense contractor designs and develops radar systems and a nostalgic overview of the history of those companies that helped make Electronics Park in the town of Salina one of our region's vital, cutting-edge, business parks highlighted the program at the Ninth Annual Our Glorious Workplaces fundraising event that benefited the Onondaga Historical Association.Proceeds from the event benefit OHA's in-school local history education program as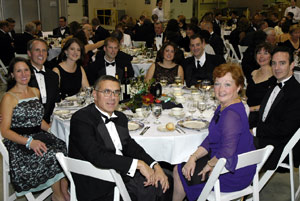 well as its Museum and Research Center operations.
As part of the event's opening welcome reception (event hours were 6 to 9:30 p.m.), Lockheed Martin officials led guests on a tour of the actual facilities where radar systems are designed and fabricated. Carl Bannar, vice president and general manager of the Lockheed Martin facility in Salina, welcomed the guests. OHA Curator of History Dennis Connors made an illustrated presentation that traced the evolutions of Electronics Park beginning in the 1940s with its birth. Connors' presentation told the story of how General Electric nourished one of its most innovative research and television manufacturing complexes at Electronics Park. He concluded with an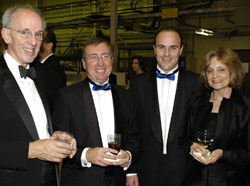 overview of Lockheed Martin's high-tech, sensor-production headquarters that has been in operation at the business park. Lockheed Corporation and Martin Marietta Corporation merged in 1995. J. Warren Young, president of the Board of Directors at OHA, served as Master of Ceremonies for the evening.
Our Glorious Workplaces is organized annually by OHA's Board of Directors.The event celebrates Syracuse's historicworkplaces and includes behind the scenes tours of those businesses that serve as event hosts along with an elegant formal dinner. Tickets to the event, which includes the welcome reception and dinner, are $195 per person.
Previous host sites for Our Glorious Workplaces since its inception in 1997 are as follows: M&T Bank (1997); Niagara Mohawk (1998); Onondaga County Courthouse (1999); The Post-Standard (2000); KeyBank (2001); Time Warner Cable/News 10 Now (2002); Crucible Specialty Metals (2003); and The Clinton Exchange (2004).
About Events, Buy Tickets, Ghost Walk, Glorious Workplaces>, Walking Tours, Programs / Lectures