Research Center Finding Aids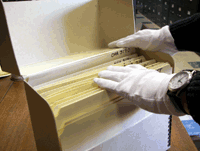 Here's our Research Center Subject List to help you find what you are looking for in the Research Center. There are separate photography reference collections with subjects that correspond to the above-mentioned files and contains many thousands of images dating from the mid-19th century to the present.
Here's our Research Center Photographs by Subject List. This aid gives you an idea of the many types of photos you will find here.
Enter Excelsior. Choose "Search HDI," enter Onondaga Historical Association, the word and, and then your search terms. For example, type Onondaga Historical Association and salt or Onondaga Historical Association and Civil War.

Shelf List - a list of books now available for use in our research center.
Collection Finding Aids
African-American Materials at OHA, by Zachary Laurence
2010.146 - The Franklin Automobile Collection at OHA, by Dennis Connors