Samples of Clothing in OHA's Clothing/Textiles Collection

Civil War Union Officer's
Frock Coat


Woman's Dress


Child's Dress

Samples of Artwork in OHA's Collection

Syracuse Nocture

Harvey Baldwin

Flower still Life

Onondaga Arsenal

West Onondaga Street

Syracuse Gas Works

The Potter

The Studio Fireplace

Yates Castle

Samples of Decorative Art Objects in OHA's Collection

Commemorative Tray for Onondaga War Memorial

Electric Toaster

Crock made in Jordan, NY

Saltine Warrior, Former Mascot of SU Sports

Scrimshaw Covered Box

Fire Bucket Used by the Thomas Hoyt Family

Samples of Native American Objects in OHA's Collection

Burden Pack

Corn Husk Dolls

Corn Husk Moccasins

War Club

Burl Bowl

Snapping Turtle Rattle

Samples of Toys in OHA's Collection

Child's Doll

Child's Doll

Doll Chair


Doll Carriage


Model Boat

Man Doll

Pedal Car

Wooden Doll

Baby Carriage

Samples of Objects Made in CNY in OHA's Collection

Novelty Candle made by
Muench-Kreuzer Candle Co.

Haberle Congress Beer

Germa-Vici Tonic

Seneca Dairy Milk Bottle

Monarch Visible #2 Typewriter

Smith Typewriter

Aunt Sall's
Laundry Detergent

Easy Washing Machine
Model M

Santa Mask to Promote
the Easy Washing Machine
---
D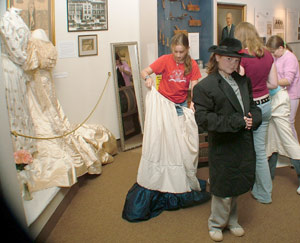 on't throw it away -- give it to OHA!! Donation Policy
Spring cleaning?? Help us to rebuild our Education Collection!! Have you started your spring cleaning yet? Are you searching through your closets or your basement finding outdated clothing, old tools, household utensils, toys, photographs, or some other item and you don't know what to do with it? Well, don't throw it away -- give it to OHA, the Onondaga Historical Association Museum & Research Center!!
When a water main broke on Montgomery St. last October, filling the basement of OHA's Museum & Research Center, we lost our entire education and program collection – clothing, photographs, Syracuse China table settings, household utensils, tools, maps, books, letters, ice tongs, milk bottles, World War II ration books, and many, many other objects.
We really need to rebuild our education and program collection and we are looking for your help! Do you have anything in your home that you would love to get rid of but don't want to just throw them away? So, what do you think…can you help us out? Remember, DON'T THROW IT AWAY, GIVE IT TO OHA!
Have a historic item you'd like to donate to OHA? Please read the following and then use the contact information at the end! We ask that you do not bring items you wish to donate to OHA without first consulting with the appropriate staff member.
Our Object Collection contains furniture, artworks, tools and a great variety of other artifacts.
Our Archival Collection contains letters, newspapers, official documents and many other types of records.
Our Educational Collection may contain either objects or archival material and due to factors such as condition or redundancy, may be used in "hands on" programs.
Due to our limited resources, we strive to collect items relevant to our immediate geographic surroundings; Syracuse and Onondaga County. Topical areas of interest for collecting are numerous but include local and regional business and industry, families, individuals, groups and historic events. Offers of gifts that may usurp undue resources such as those requiring restoration or extremely large collections may be declined. Gift offers for items for which donor does not have clear title will be declined.
No gifts will be accepted that are collected or imported illegally. OHA strives to acquire only items that do not have restrictions or encumbrances such as partial copyright.
To discuss your donation of Educational or Object Collections, contact Assistant Director/Curator of Collections Thomas Hunter at (315) 428-1864 ext. 320, and to discuss a donation of Archival collections contact the Archivist at (315) 428-1864 ext. 313.