You may purchase a copy of any OHA photo
Photos from the collection of George N Barnard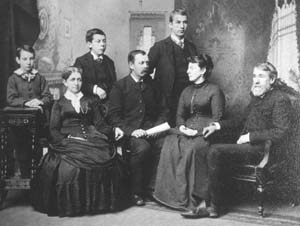 George N. Barnard was born 23 December 1819 to Norman Barnard and Grace Badger in Coventry, Connecticut. When his father died in 1826, his mother moved the family to central New York. In 1833 Barnard's sister Pauline Gaskill, with whom he was then living, moved with her husband to Nashville, Tennessee, and later to Gallatin, where Barnard spent several years. By 1842 he had returned to New York State and was living with family in Sauquoit; in 1845 he moved to Oswego to become a co-manager of the Oswego Hotel, but a year later gave this position up to pursue a full-time career as daguerreotypist, and opened his own studio. It is unknown from whom he learned the profession, though he later claimed to have been working in it since 1842, only three years after Daguerre's invention of the process. During this period he took two daguerreotypes of a fire in the Oswego grain mills, credited today as the first 'action news' photographs. He married Sarah Jane Hodges in 1843, with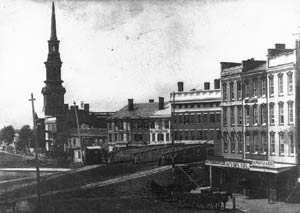 whom he had two children, a daughter Mary Grace, and a son who died in infancy. By 1853 Barnard was relocating his business to Syracuse, while his then-partner Alonzo Nichols maintained the Oswego studio, and by 1854 was advertising the new ambrotype photographic process; paper prints and tintypes followed soon after. Barnard sold this studio in 1857 to pursue other work: he developed a method of taking photographs on wood for engravers in the same year, and worked with John Homer French to produce New York State maps and a gazetteer, until 1859. In 1859 Barnard moved to New York City, where he had been hired by the Edward Anthony photographic supply firm to take stereographs for popular sale. In 1860-62 he was making trips for this purpose to Niagara Falls and Cuba, as well as working on an assignment, together with his former assistant Jacob F. Coonley, to make carte-de-visite photographs of all the negatives in Matthew Brady's collection of portraits of distinguished people, at Brady's studios in New York City and then Washington DC; as activity increased in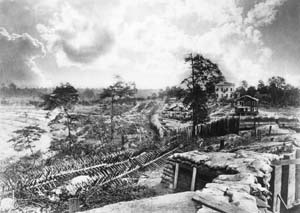 the latter city during the build-up to war, they were also engaged themselves in taking portraits, particularly of military personnel. With the outbreak of the Civil War Barnard was sent to photograph various locations in Virginia, including Harper's Ferry, Bull Run and Yorktown, as well as in and around Washington. In December 1863 he was hired by the Topographical Branch of the Department of Engineers, Army of the Cumberland, to run the army's photographic operations based in the Military Division of the Mississippi's command headquarters in Nashville, work which involved photo-duplication of maps, plans and other materials, documenting sites and subjects as assigned, and taking portraits. He was summoned to Atlanta after the city's fall in the autumn of 1864, and consequently accompanied Sherman's troops on their march to Savannah. In 1865 he traveled to locations in South Carolina to document the aftermath of operations there. Barnard is perhaps best known for the series of photographs taken to document Sherman's Campaign, beginning in Tennessee, to Atlanta, the 'March to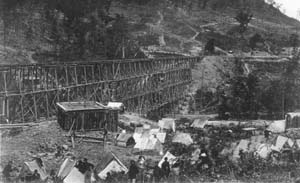 the Sea', and concluding in South Carolina. Sixty of these were included in an album published by him in 1866, entitled Photographic Views of Sherman's Campaign. Following the war, Barnard worked again in Syracuse and New York City, then opened a studio in Charleston, South Carolina in 1868. In 1871 he moved to Chicago, only to lose his studio there several months later in the disastrous fire of 2 October; he immediately set about documenting the ruined city in a series of stereographs. From 1873 until 1880 he returned to his studio in Charleston, then followed his daughter's family to Henrietta, New York, marrying his second wife (his daughter's mother-in-law) Emma Chapin Gilbert, in 1881, and working for the Eastman Kodak Company in Rochester as a demonstrator to promote their dry-plate process. In 1884 Barnard, his wife, and his daughter's household moved to Painesville, Ohio, where he opened a studio and dry-plate manufactory with Horace W. Tibbals. In 1888 the family moved to Gadsden, Alabama, then in 1892-1893 north again to a Gilbert family farm in Cedarvale, New York, near Syracuse, where Barnard would spend his remaining years, still taking photographs of area residents. He died there during a snowstorm on 4 February 1902.
Series I: Photographic Material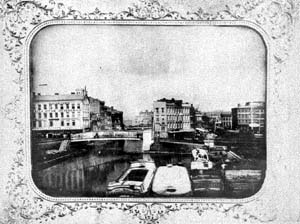 Comprises all photographic material except reproductions of printed matter. Original material credited to George N. Barnard, or attributed to him by Richard N. Wright, includes one daguerreotype of Syracuse, taken ca. 1854, of the Erie Canal at Clinton Square, on the reverse of which is scratched 'G N Barnard'; one ambrotype of Hanover Square in Syracuse, attributed to Barnard, and another ambrotype portrait by Barnard of an unidentified male sitter ca. 1854-57, in the original tooled leather case; a complete edition (with sixty-one prints) of Photographic Views of Sherman's Campaign, published by Barnard in 1866; 300 stereographs of various locations and subjects: from the Cuba series, made in 1860, including streets, buildings, monuments and the harbor in Havana, and plantations; Niagara Falls, from the winter of 1861-62; Civil War battlefields, fortifications and other noteworthy sites, as well as scenic views in Virginia, Tennessee, Georgia, South Carolina- mainly of Charleston, with buildings still in ruin after the 1861 fire; and numerous views in and around Fort Sumter, of March 1865; Charleston during the Reconstruction era when Barnard had his studio there, with views of city streets, businesses, residences, well-to-do residents, and such landmarks as the church of St-Martins, and also including large-format stereos of Magnolia Gardens and Drayton Hall, most hand-tinted; and a series taken of Southern blacks, working or posed inside the studio; a nearly complete set of Among the Ruins in Chicago, documenting the aftermath of the 2 October 1871 fire. Also in this series are thirty-seven stereos credited to other photographers, added to Barnard material by Wright, among which are subjects similar to those taken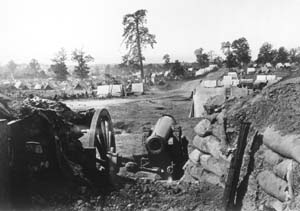 by Barnard, e.g.. Niagara Falls, Charleston, Lookout Mountain in Tennessee by E.N. Emmons, J.N. Wilson, E.M. Recher, John P. Soule, J.B. Linn, Jesse A. Bolles and George Stacey. Paper prints, some mounted on cardboard, include nineteen views by Barnard and Gibson, published in 1862 as part of the 'Brady's Album Gallery' series, of Civil War sites in Virginia including Bull Run, Yorktown and Centreville, with soldiers posed in many scenes. Also thirteen portraits of both identified and unidentified sitters, mostly taken at Barnard's Charleston studio during the 1870s, in carte-de-visite and cabinet card formats, including four of General William T. Sherman. Other original material includes forty-four photographs relating to Barnard's family and residences, taken by Barnard himself and by others (not always credited), both formal and 'snapshots': portraits of family members, relations and descendents, particularly of his daughter Mary Grace Barnard Gilbert, her children, Barnard's second wife Emma Jane Chapin (Gilbert) Barnard, and of Barnard himself, also group photographs of the Barnard/Gilbert family, views of their homes in Gadsden, Alabama and in Henrietta and Cedarvale, New York. A number of the latter were taken by Edward Hommel, a friend of the family when they resided in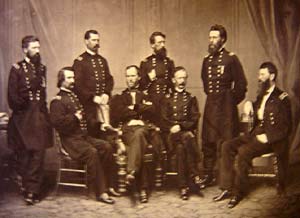 Cedarvale. Another sixteen prints and slides taken after Barnard's lifetime include documentation of the new headstone installed at Barnard's gravesite in 1964, locations connected with Barnard, photographs of descendents with whom Wright corresponded, and of the 1963 exhibition Sherman's Atlanta Campaign and March to the Sea held in the Onondaga Savings Bank. Also in this series a paper print in carte-de-visite format of the first plate from Barnard's Photographic Views of Sherman's Campaign, taken by Matthew Brady (in the original version without Maj. Gen. F.P. Blair) and an uncredited print of a man with a "10-pounder" near Auburn State Prison, 1898, added to the collection by Wright. Among Duplicates are 209 black and white copy prints and transparencies in various formats of Barnard and Gilbert family/relations and residences, mainly made from originals in the OHA collection by Wright; in the same format are fifteen prints and transparencies of portraits of other sitters, identified as residents of the Onondaga region and taken by Barnard. Also made at the request of, or ordered by Wright from the Library of Congress, the National Archives and the George Eastman house, among others, are numerous copy prints of Civil War subjects, by Barnard, his colleagues, and contemporaries. Reproduced mainly from the OHA copy of the Photographic Views of Sherman's Campaign are 151 5x7-inch black and white copy prints and transparencies, also fifty-seven 8 1/2x4 3/4-inch mounted prints donated by Capt. George K. Collins. Of general Civil War interest are 191 copy prints in various formats, arranged by location and/or subject, of photographs credited to Barnard, also uncredited photographs, some of which have been attributed (by Wright and others) to Barnard, among these are photographs made by Barnard whilst working for Brady in 1862 in Virginia, and from 1863 as official photographer of the Military Division of the Mississippi; this includes pictures of the 122nd and 149th New York Regiments; photographers and newsmen in the field with their equipment; in Virginia at Bull Run, Confederate fortifications at Centreville, the Dutch Gap canal, Yorktown, Fair Oaks and Hampton, including Revol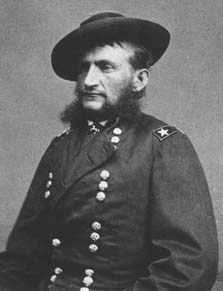 utionary War sites; Lookout Mountain, Chattanooga, Knoxville and Nashville in Tennessee, including Federal and Confederate camps, forts, railroad depots, construction by Federal troops, the colored Battery at Johnsonville; Atlanta, Georgia before, during and after occupation by Sherman's troops; Charleston streets, ruined buildings and forts nearby; Fort McAllister at Savannah, some with Sherman and staff posed. Other copy prints and transparencies in various formats, most obtained from other collections by Wright, and covering the entirety of Barnard's career, include thirty-two from Oswego, with daguerreotypes of the Oswego Fire of 1853, of Woodsawyer, Nooning, and material placed in a cornerstone of Christ Church in 1854; sixty of a total of four daguerreotypes taken in the mid-1850s of the Erie Canal at Clinton Square; fifty-one of the Chicago fire, including enlargements and title labels; seventy-five of subjects in and around Charleston, also title labels, group portraits of unidentified families, and black laborers. Ten postcards include views of Charleston East Battery and the Salina Street Bridge in Syracuse, from Barnard originals, later scenic views of Magnolia Gardens, and Nathaniel Hale's home in Coventry, Connecticut at the turn of the century. Copy prints (black and white) in various formats, most obtained by Wright from originals in other collections, by Matthew Brady, Alexander Gardner, James Gardner, James Gibson, Timothy H. O'Sullivan, John Reekie and William M. Smith, comprise seventy-two Civil War-related views- primarily in Virginia and Washington DC- and portraits.
Elizabeth Manton
7 August 2003