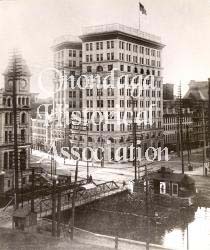 This online database (begun 10-30-06) is a repository of scanned images from the collection of the Onondaga Historical Association. OHA's holdings include thousands of original photographic images covering a span of more than 160 years. This PhotoStore represents only a very small portion of them. Our extensive collection of images ranges from 1842 to the present. There are photographs, slides, postcards, stereopticon views, daguerreotypes, glass negatives, and other forms of images depicting the political, social, and cultural life of Syracuse and Onondaga County, with particular reference to buildings and structures, individuals, social organizations, parks, and the Erie Canal. OHA holds many photographs originally appearing in the Syracuse newspapers.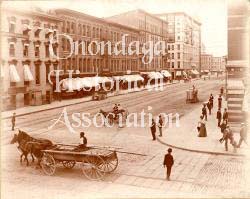 Everyone is invited to view and search this collection. If you find an image you would like a reproduction of, you may order by printing the order form. Just mail or fax the form back to us with payment. Let us know if you would like to pick up your reprints at OHA. Please specify the image ID# and size of reprint. For information regarding this very popular OHA service, please call (315) 428-1862 ext 325 or email. All original photographs are in the OHA Collection and are available to view during Research Center public hours Wed-Fri 10-2 pm.
To order photos suitable for framing, print the order form, indicate the image ID and choose the desired print size. For more information, please call (315) 428-1862 ext 325 or email.