We have a brand new
HVAC system

OHA Renewal!
Or
How We Bounced Back After the Flood

It's been almost a year since our encounter with a broken water main that flooded our lower level. To read the story of our disaster, click here. Due to the results of the water, we lost our everything that was stored in the basement. We cleaned, scrubbed, threw away and dried our basement spaces. All the mechanical systems needed to be repaired or replaced. We have a new elevator system, repaired heating and a new Franklin Automobile Exhibit HVAC system, new electrical systems and a whole new world of possibilities that could fill our basement rooms. It may not be exciting to those of you who were not privy to the damage caused, but we are filled with optimism and pride. It's a whole lot of empty at the moment, but that's such a step forward from dirty, moldy piles of debris. Here's our New Look!


Our basement workshop is cleaned out and ready for inspiration

Our new electrical system

After much delay, our new elevator system is finally up
and running again. It has been a year of exercise for our patrons and staff with all the required stair climbing.
---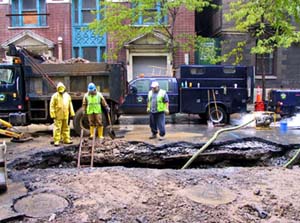 On Saturday night, 22 October 2005, at about 11:30 pm, a major 24 inch water main broke in Montgomery Street directly in front of the Onondaga Historical Association Museum & Research Center. Almost immediately, the basement was inundated with thousands of gallons of water (we estimate at least 500,000) and the alarms went off summoning the City of Syracuse Fire Department. By the time Executive Director, Paul Pflanz and Assistant Director, Tom Hunter arrived, the basement was completely submerged and water was coming OUT of the two sidewalk vault doors. This attests to the tremendous water pressure built up INSIDE OHA's basement which was immersed from floor to ceiling.
The City Water Department was on the scene and had begun to shut down the water main, a long and complicated process that did not achieve complete success until early Sunday afternoon. This due to the fact that, once shut down, water still had to drain from all the downtown buildings connected to the main between shutoff valves and the break in either direction. The Fire Department immediately began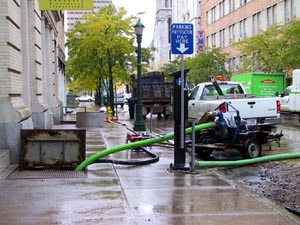 pumping operations.
Syracuse Mayor Matthew Driscoll visited the scene early Sunday and mobilized the City's resources to help. Executive Director Pflanz called Deputy Onondaga County Executive Edward Kochian. Mr. Kochian got the Onondaga County Water Department involved; they brought two huge pumps early Sunday morning and began pumping out OHA's basement. It is gratifying that we received about all the municipal support that we could have asked for and as soon as we requested it.
By noon, the water had receded by about 4 feet (it was originally about 10 feet deep), but a significant amount of water was still draining from the ruptured water main pipe directly into OHA's basement and the pumps were able to make little more headway. By about 2pm Sunday, the water finally stopped draining from the ruptured pipe and the pumps began to gain on the water inside OHA's basement. At about 6pm, the wate level in the basement was down to about 1 foot remaining and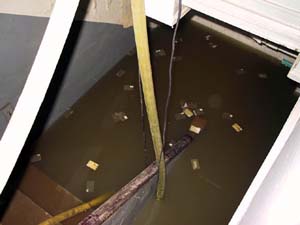 Niagara Mohawk crews entered the basement in an attempt to reach the electrical cabinet room to assess damage. This was important as we still had, amazingly enough, full power upstairs and even had one or two lights on in the basement! Executive Director Pflanz accompanied the Niagara Mohawk crew on this expedition and the scene in the basement was indescribable. Debris was everywhere! Stored lumber clogged the corridors making them almost impassible. Mud and sludge covered every item stored in the basement. Hydraulic fluid, lubricating oil, and other fluids leaked out of equipment and splattered equipment and walls.
OHA received by far the worst damage on Montgomery St. As far as we know, there was no flooding on the west side of the street, and no damage, other than some water that entered the YMCA lobby from the street. On our side, our neighbors to the north and south had from 6 inches to a foot or so of flooding. This was partly due to the positioning of the break directly in front of OHA but more related to the fact that OHA still has telephone compnay vaults under the sidewalk that were only a few feet from the break. These vaults provided the path of least resistance to the tremendous volume of water. We have been very fortunate in that no damage occurred to the first floor exhibit gallery spaces.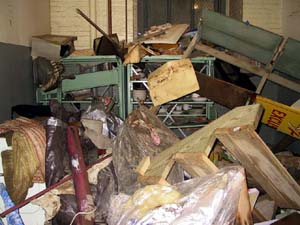 Here is a list of what OHA lost as a result of this extreme damage:
The boiler, all its pumps and electrical controls.
The elevator car, controls, motors and all mechanicals.
The air conditioning unit controlling the environment for the Franklin Automobile Exhibit is completely destroyed.
The entire electrical grid in the basement has been water logged and must be replaced along with most switches, outlets, etc.
All the tools in the basement workshop, including a radial arm saw, small power tools, and myriad hand tools, some of those vintage but in good working order.
Exhibit props and exhibit cases.
Our entire education/hands-on collection. All the historic and reproduction items education staff uses in programs. This lists includes clothing, photographs, tools, china, WW II ration books, phonograph records, books, etc.
Hundreds of board feet of lumber used to build exhibit props and shelving.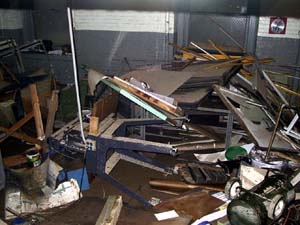 A professional firm was hired to remove debris from the basement. This was a huge undertaking. Because of asbestos in the basement, everything stored there was contaminated. All the contaminated material had to be decontaminated and removed. Once the material was removed, the basement had to be professionally cleaned.
OHA still has no elevator. The water main break tragedy is a major setback to our operation! However, we have had great assistance from a variety of municipal agencies, including the City of Syracuse and Onondaga County. The catastrophe has knocked us back a few steps but we are resilient! We are looking toward a brighter future and hope you will support us!
If you wish to make a donation, please print
the Water Disaster Appeal Contribution Form.
We will greatly appreciate any and all help!